Why trust Happy Camper Gear?
When you're looking for expert advice, it helps to find someone who's been where you want to be. Me? I've been camping and hiking for over fifty years now. And for several years in there, I even sold outdoor gear as "the expert" with all the answers. While I don't know everything, I've experienced quite a range of climates, terrain, access, and adventures. I've had some close calls and some transcendent moments. My goal on Happy Camper Gear? Give you the benefit of my knowledge before you head out so you can avoid some pitfalls and make great choices as you gear up for your own adventures.
My mission on this site is to help you find the right gear so you have a great outdoor experience, build memories, and stay safe in the wilderness.
A brief history of the Happy Camper Gear girl
My first camping adventures were with my parents in a red VW pop-top camper. Here I am (in the yellow shirt) getting ready for supper at the campsite at 5 years old. I think this was in Pennsylvania not far from my childhood home.
Childhood trips included a backpacking trip in the Adirondacks (upstate NY) during a hurricane, a camping trip on Mt. Washington, NH with fog so thick we couldn't walk 10 feet without being lost in a whiteout (we had to wait an extra 2 days to hike out so we didn't get lost), and a 2 month cross-country adventure in a green VW van (nicknamed the Jolly Green Giant) from Pennsylvania to Colorado to backpack in Estes Park, CO where I saw my first 14,000 foot peaks. (That's me in blue looking at the camera.)
But it wasn't just my parents dragging me off into the wilderness. Once I was old enough to head out on my own, I did just that, with short trips from my home base in Richmond VA to the Shenandoah Valley in western Virginia, New River Gorge, WV, and Hanging Rock State Park, NC. First, it was with various friends, then with my new husband.
Since we were childfree and full of boundless energy, every weekend was an adventure somewhere. From backpacking to rock climbing to canoeing to biking, the activities we did all revolved around camping in the wilds. Which gave us the courage to take a big plunge. At 26, my husband and I quit our jobs, put all of our stuff in storage (paid in advance for 6 months), and headed west in an '85 Honda Accord. We camped, climbed, and backpacked our way across the country for the next 4 months, from January til April. We followed the sun and lived in our tent. 
In the days before cell phones, we would go weeks between checking in with parents (who were not all that happy about it). I remember standing at a payphone outside a Quonset hut in Hueco Tanks, TX ordering down sweaters from Marmot (then still in Grand Junction, CO) because we didn't realize the desert got so cold at night! I still have that vintage 90s jacket in all its royal blue, teal, and red glory.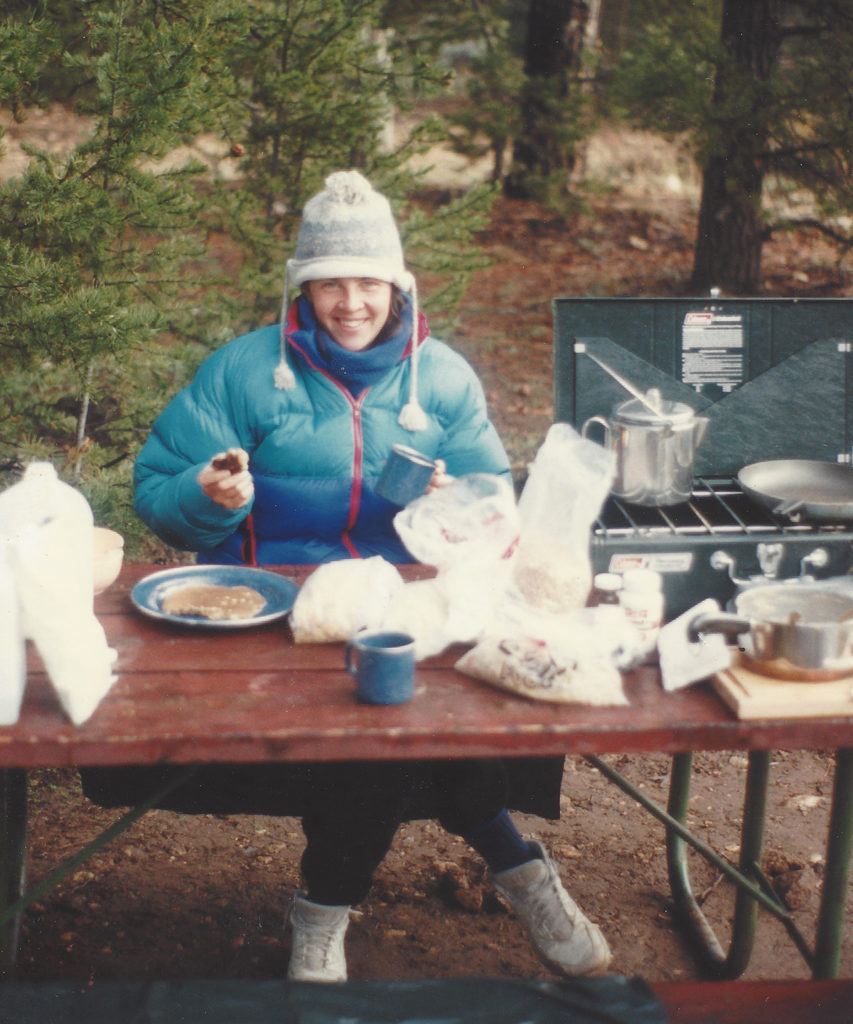 We made our way across Alabama, Texas, New Mexico, Arizona, and California, then drove up the coast to the San Francisco Bay Area. From there we headed east again, climbing and backpacking through Nevada, Utah, and Colorado. It stirred a love of the West in both of us, with its wide open skies and abundance of wild places. We decided to settle and raise our family there. It only took us 5 years to get back.
Even having our first baby didn't slow us down too much. She was a natural camper, going on her first camping trip at 3 months old. Here I am, pregnant with baby number 2. And in some fit of insanity, I agreed to go camping when she was 2 and our second baby was just 6 weeks old. That was the turning point to what I call "The Cabin Years."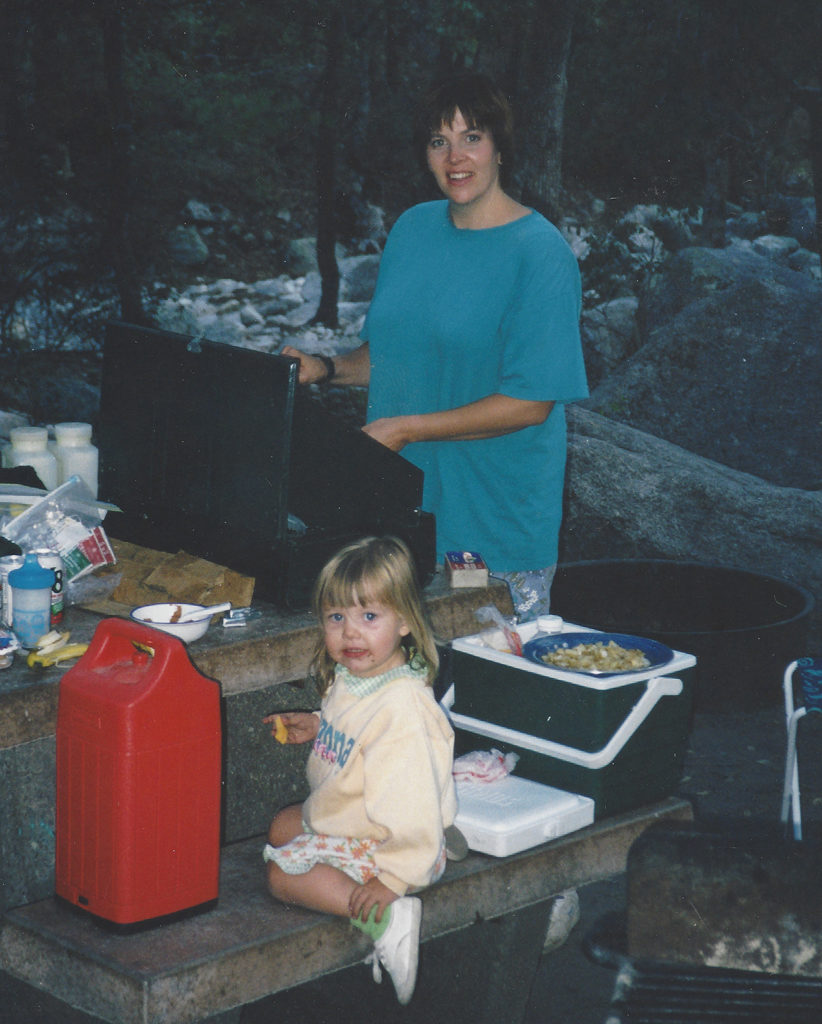 The work of setting up a camp is easy and straightforward. The work of parenting is, too. Doing them both at the same time means Mom doesn't get much time to relax and enjoy the moment. As additional kids came along, it just got more clear. Day hikes were the way to go, camping would have to wait. True, I took a camping trip alone every now and then; just overnight and just to get a reminder of my love for the wilderness. But the kids stayed home with Dad.
Next stop on my Gear Girl adventure was actually selling gear at a well-respected national retailer. While I wasn't overnight camping at this point (still the Cabin Years), I was mountain biking, hiking, trail running, downhill skiing, cross country skiing, canoeing, kayaking, stand up paddle boarding, mountaineering, and selling stuff to people who were camping. And I was counting the days til the twins were old enough to take to the woods!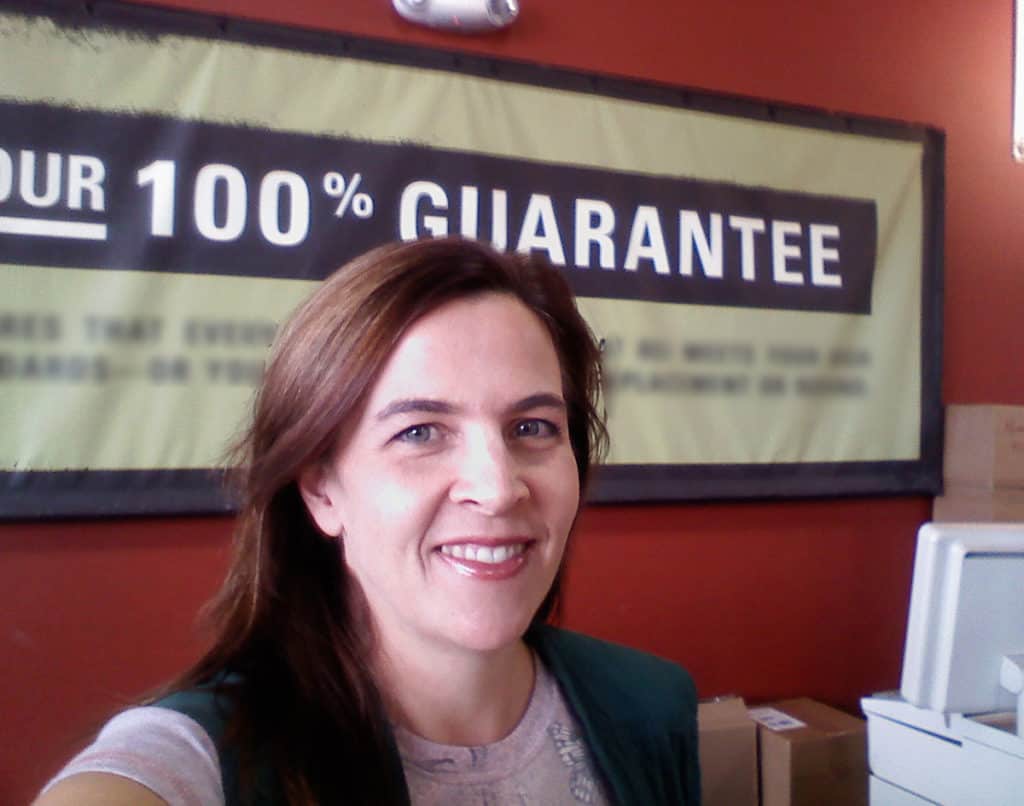 The first time I took all the kids camping, they were ages 13, 10, 7, 6 and 6. They loved it as much as I did. Even the little ones were helpful in setting up camp (clearing sticks from where the tents were going to be and piling them up for the fire later). Granted, they'd been hiking from the time they could walk. But there is something different about getting out into the woods and staying there.
Our new family-favorite activity was set. Now a single mom, camping was a great budget way to vacation with the kids, build memories, and instill my love for the outdoors in the next generation. And I had all this cool gear from my employee discounts. We explored the West, camping in Utah, Colorado, Arizona, California, and Wyoming. As they grew, the kids became more helpful around camp and soon were even able to carry their own stuff backpacking.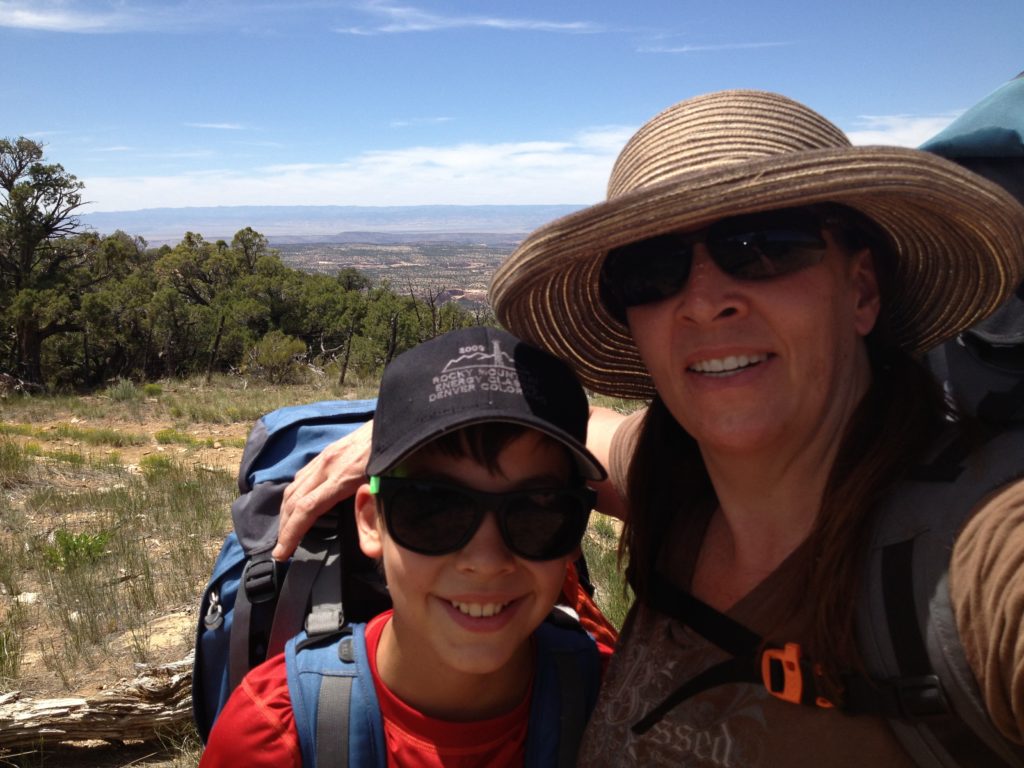 And as each has flown the nest, they've carried on the family tradition, camping with friends and spouses. I'm looking forward to when my grandkids (yet to come) are ready to head out into the wilderness with Grandma Gear Girl.
How Happy Camper Gear content is created
All the content on this site is planned and edited by me for the highest possible quality. I use freelance writers or experienced outdoors people for some articles. I then edit these articles for accuracy. We give you the best information possible to make your buying decisions so you have the most enjoyable camping experience. As much as possible, we've tried out the items we recommend. Where this is not possible, we rely on extensive online research, real customer feedback, and input from the manufacturers and retailers in the outdoor market. (I still have contacts!)
What's in it for you?
As an industry insider, I've seen the good and the bad of the gear game. While most outdoor retailers are committed to sustainability and integrity, they are also profit-driven. There are company strategies that may not align with you getting the best deal. With each review on this site, I'm giving you the inside scoop. When you spend your hard-earned money, I want to you to get every penny's worth. From tents to lanterns to stoves to clothing, outfitting yourself for camping is a moving target. I can help you hit the bullseye more often than not.
Get real-world advice on which items will make your trip better and which you can do without

Take advantage of all the things I did right…..and the ones I didn't…over a lifetime of camping

Get a behind-the-scenes look at the outdoor industry from an insider who loves the gear and using it

Help you and your family stay safe, have fun, and build memories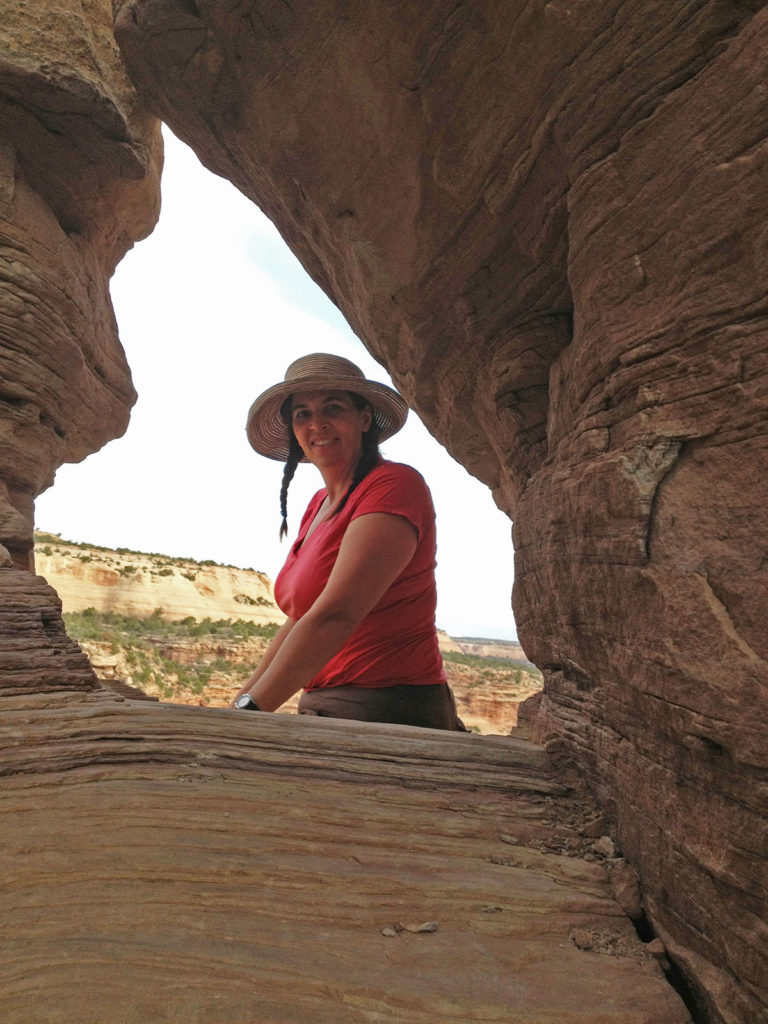 Let's get going
There's a saying in the gear world, "Light, durable, cheap. Pick two." I can help you figure out when to cut costs, and when to suck it up and invest in a light and durable piece of equipment; when top-of-the-line is your friend, and when a budget model will do just as nicely. Want to take advantage of my lifetime of experience? If you're on board with listening to my advice, and weighing the options in my guides and camping tips, then settle in, grab a beer, and read on. Let's talk gear!
Cecily

Whiteside
The Happy Camper Gear Girl
Founder and Editor at Happy Camper Gear